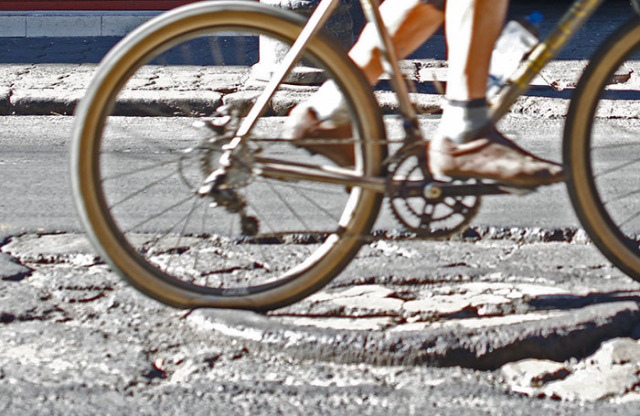 On a cloudy October day, Bruce Hagen of Bike Law Georgia and Brian Weiss of Bike Law Colorado met in Boulder, Colorado for a bike ride. While riding bikes on the Boulder Creek Bike Path, they exchanged war stories of crashes on bike paths in their respective states. Looking back on the conversation, we thought that there were a few recurrent hazards that are worth sharing.
#1 Loose Dogs and Careless Dog Owners
Brian: While I love dogs, I get a bit anxious when I see pooches on the bike paths. One awkward scenario is when I see (or even worse when I don't see) a dog running loose because I do not know if they might run in front of me. Both of us have made claims and filed a lawsuit against dog owners and their insurers when a loose dog runs in front of a bike rider and the rider crashes. Almost every city has leash laws, and a loose dog on a bike path is a hazard to cyclists. Both of us have made claims and even filed lawsuits against the owners who violated leash laws and as a result, a rider gets seriously hurt.
Bruce: While I agree with you about loose dogs as a real risk, I am troubled by long retractable leashes extending across the bike path. Seeing a long string in front of me as I ride is like a crash waiting to happen. The matter is even worse when the dog owner is looking at their phone and not where they or the dog are going.
#2 Other Humans
Brian: I like to see other folks using the bike paths, but am annoyed by folks wearing headphones and not able to hear me when I want to safely pass them. I like listening to music as well, but not so as to endanger other path users. I recommend not riding with headphones or earbuds even though there is no specific law against it in Colorado.
Of course, other cyclists coming at you or from behind can be a hazard. Bike riders who do not ride as far as they can to the right or swerve left can cause a crash with an oncoming rider or walker. Bike shops in Boulder see bikes damaged from bike vs. bike crashes several times a week.
Let's consider Troy's case as an example of a bike vs. bike crash on a bike path. Troy (name changed to protect privacy) was riding on the Platte River Trail when a rider coming at him in a line of other riders wanted to pass the others on the left, he crossed over the centerline, and hit Troy straight on. Troy could not go anymore to the right or would have gone down a steep hill into the river, so there was a head-on bike crash in which Troy sustained a broken bone in his hand and the other rider fractured his collarbone. This could have been avoided if everyone stayed on their side of the bike path and were courteous to other riders.
Bruce: I don't like the roller blades or groups of folks who take up the entire width of the bike path. I also do not like it when folks are on the wrong side of the bike path when it goes into a blind corner or under a bridge.
#3 Dangerous conditions of the bike paths
Brian: I have met with a lot of bike riders who are hurt because of poorly maintained and poorly designed bike paths. In Colorado, we have shifting soils and sudden weather changes that wreak havoc on the cement pavers or asphalt bike paths. The claims against the Government for unsafe or poorly maintained bike paths in Colorado are difficult and are also limited by statute. In fact, there are specific notice requirements required by Colorado state law, before a claim can be made against a governmental entity, so if you feel you have a claim against the Government in Colorado then you only have 182 days to provide proper notice so do not delay and contact a lawyer who practices in this area and to Code at C.R.S. 24-30-1510(3)(e) & 24-30- 1520.
Consider using a picture like the below: