How to legally roll through a stop sign safely in Colorado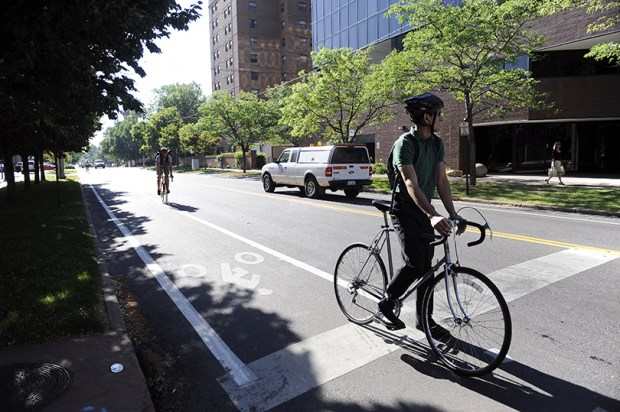 Disclaimer: This is not legal advice and bicyclists should become familiar with local laws where they ride as laws regarding the "Safety Stop" and other bike laws vary throughout Colorado.
The Colorado legislature passed a "Safety Stop" law in 2018 where bicyclists are no longer required to come to a complete stop at stop signs. This law applies only to stop signs, no red lights, but there is a new twist for red lights that we explain below. This "Idaho Stop" law is similar to the law in Idaho, as well as Aspen and Summit County, Colorado. A State-wide effort at passing this law was attempted during the 2017 General Session but was struck down for the fear it would cause injuries and confusion. However, the 2018 version (even though we like it) is more confusing than the 2017 version because it is up to local authorities if they want to adopt the law. The reasons for the passage of this law are to encourage bicycling and to lessen bicycle crashes. It can be tiresome losing your momentum to stop at each stop sign and the new law will allow bike riders to clear out of intersections before traffic arrives. Unlike driving a vehicle, a bicyclist has a much better perspective of what is around him or her. A bicyclist can also hear what is around him or her with fewer distractions of vehicle occupants. In Idaho, the bike law passing is thought to have decreased bicycle-vehicle collisions by 14%.
Rather than setting a specific speed, the Colorado legislature simply states that it must be "reasonable." The state has largely left the decision to implement the law to local communities. The default reasonable speed is 15 MPH. However, 15 MPH may be unreasonably slow or fast, so municipalities may pass local ordinances to require slowing to 10 MPH, or allowing as much as 20 MPH. When the speed considered to be reasonable is altered, signage indicating the speed must accompany the stop sign.
So how do you safely roll through a stop sign at 15 MPH on a bike? The first step is always to be alert and we recommend not listening to music or podcasts in both ears. You may be able to sense the signs that a car is moving in an area you cannot see from the noise its tires make on the ground. These days, electric vehicles are becoming more common and you cannot expect to always hear the engine, which may be audile despite having earphones in. Also, earphones make it more difficult to focus on your form on a bike. So much about biking is anticipating where to place your feet, how to maneuver your body weight, and whether you should be feathering your brakes to get to a precise speed to take a corner safely. If you are just starting out, do not use earphones. If you are an experienced rider, still take out your earphones – it could save a life.
The second step is to keep your head on a swivel at all times; look at nothing in particular, but see everything. Think of where you are most likely to collide with something and look there, then to the next place, and so on. Look for cars and pedestrians, but also be aware that unanticipated obstacles may be moving into your bike paths, such as an off-leash dog, a pedestrian on an electric scooter, or another bicyclist.
The third is to use your legs to hold your body above your bike rather than remaining seated. When a rider is hovering slightly over their seat, the rider takes on a much more reactive form and can more quickly whip the bike to the side, deal with an unseen pothole, or slam on the brakes without going over the handlebars. The key is to be ready to lean as far back as possible to counteract the possibility of stopping too quickly, especially if the bike is equipped with hydraulic disc brakes. A full stop at 15 MPH can easily send the rider onto the pavement face first when they get bucked off their seat.
Fourth, signal your intention to turn and be loud if there are people nearby who may step out into traffic. While it takes practice to hover above your seat with only one arm on the handlebar, try and get your left arm to signal either right or, especially, when you are turning left. Regulations require bicyclists to signal within 100 feet of turning. Bicyclists must also yield to pedestrians, but not those who abruptly enter traffic.
The fifth and final step is to ALWAYS go behind vehicles that are moving rather than in front of them, even if they are only idling forward and are making eye contact. Never assume you have the right of way at a stop sign intersection because you do not if you are rolling through.
The "Safety Stop" law passing is a major step toward creating a more bike-friendly environment on the streets of Colorado. However, the law is new and motorists may not be aware of it so best to always be alert. We suggest that each bicyclist know where the "Safety Stop" law is in effect before rolling through any stop signs. Be respectful towards pedestrians, scooter riders and other vehicles so that, as the law's passing becomes more common-place, it is not a source of contention drivers have with bicyclists.
COLORADO LAW ALLOWING BICYCLES TO ROLL THROUGH STOP SIGNS AND YIELD AT RED LIGHTS WHEN THERE IS NO OTHER TRAFFIC
In the Colorado Revised Statutes, § 42-4-1412.5 will be added as follows: Local adoption of alternative regulation of bicycles approaching intersections – alternative regulation described – the validity of existing local resolution – definitions. (1) A COUNTY OR MUNICIPALITY MAY ADOPT AN ORDINANCE OR RESOLUTION IMPLEMENTING THIS SECTION. IF A COUNTY OR MUNICIPALITY ADOPTS AN ORDINANCE OR RESOLUTION PURSUANT TO THIS SECTION, THE ORDINANCE OR RESOLUTION MUST SPECIFY THE FOLLOWING:
A PERSON RIDING A BICYCLE OR ELECTRICAL ASSISTED BICYCLE AND APPROACHING AN INTERSECTION OF A ROADWAY WITH A STOP SIGN SHALL SLOW DOWN AND, IF REQUIRED FOR SAFETY, STOP BEFORE ENTERING THE INTERSECTION. IF A STOP IS NOT REQUIRED FOR SAFETY, THE PERSON SHALL SLOW TO A REASONABLE SPEED AND YIELD THE RIGHT-OF-WAY TO ANY TRAFFIC OR PEDESTRIAN IN OR APPROACHING THE INTERSECTION. AFTER THE PERSON HAS SLOWED TO A REASONABLE SPEED AND YIELDED THE RIGHT-OF-WAY IF REQUIRED, THE PERSON MAY CAUTIOUSLY MAKE A TURN OR PROCEED THROUGH THE INTERSECTION WITHOUT STOPPING.
FOR PURPOSES OF THIS SUBSECTION (1), A REASONABLE SPEED IS FIFTEEN MILES PER HOUR OR LESS. A MUNICIPALITY, BY ORDINANCE, OR A COUNTY, BY RESOLUTION, MAY REDUCE THE MAXIMUM REASONABLE SPEED AT ANY INDIVIDUAL INTERSECTION TO TEN MILES PER HOUR OR RAISE THE MAXIMUM REASONABLE SPEED TO TWENTY MILES PER HOUR IF THE MUNICIPALITY OR COUNTY ALSO POSTS SIGNS AT THE INTERSECTION STATING THAT LOWER OR HIGHER SPEED LIMITATION.
A PERSON RIDING A BICYCLE OR ELECTRICAL ASSISTED BICYCLE AND APPROACHING AN INTERSECTION OF A ROADWAY WITH AN ILLUMINATED RED TRAFFIC CONTROL SIGNAL SHALL STOP BEFORE ENTERING THE INTERSECTION AND SHALL YIELD TO ALL OTHER TRAFFIC AND PEDESTRIANS. ONCE THE PERSON HAS YIELDED, THE PERSON MAY CAUTIOUSLY PROCEED IN THE SAME DIRECTION THROUGH THE INTERSECTION OR MAKE A RIGHT-HAND TURN. WHEN A RED TRAFFIC CONTROL SIGNAL IS ILLUMINATED, A PERSON SHALL NOT PROCEED THROUGH THE INTERSECTION OR TURN RIGHT IF AN ONCOMING VEHICLE IS TURNING OR PREPARING TO TURN LEFT IN FRONT OF THE PERSON.
A PERSON RIDING A BICYCLE OR ELECTRICAL ASSISTED BICYCLE APPROACHING AN INTERSECTION OF A ROADWAY WITH AN ILLUMINATED RED TRAFFIC CONTROL SIGNAL MAY MAKE A LEFT-HAND TURN ONLY IF TURNING ONTO A ONE-WAY STREET AND ONLY AFTER STOPPING AND YIELDING TO OTHER TRAFFIC AND PEDESTRIANS. HOWEVER, A PERSON SHALL NOT TURN LEFT IF A VEHICLE IS TRAVELING IN THE SAME DIRECTION AS THE PERSON AND THE VEHICLE IS TURNING OR PREPARING TO TURN LEFT. IF THE PERSON IS NOT TURNING LEFT ONTO A ONE-WAY STREET, THE PERSON SHALL NOT MAKE A LEFT-HAND TURN AT AN INTERSECTION WHILE A RED TRAFFIC CONTROL SIGNAL IS ILLUMINATED.
(2) IF A COUNTY OR MUNICIPALITY ADOPTED A VALID ORDINANCE OR RESOLUTION THAT REGULATES BICYCLES OR ELECTRICAL ASSISTED BICYCLES SUBSTANTIALLY AS DESCRIBED IN SUBSECTION (1) OF THIS SECTION PRIOR TO THE EFFECTIVE DATE OF THIS SECTION, THAT ORDINANCE OR RESOLUTION REMAINS VALID.
(3) THE ADOPTION OF AN ORDINANCE OR RESOLUTION IN ACCORDANCE WITH THIS SECTION DOES NOT DIMINISH OR ALTER THE AUTHORITY OF THE DEPARTMENT OF TRANSPORTATION OR THE STATE TRANSPORTATION COMMISSION AS THOSE ENTITIES ARE DEFINED IN SECTION 43-1-102 REGARDING THE DEPARTMENT'S OR COMMISSION'§ AUTHORITY TO REGULATE MOTOR VEHICLE TRAFFIC ON ANY PORTION OF THE STATE HIGHWAY SYSTEM AS DEFINED IN SECTION 43-2-101 (1).