Winter Bike Commuting in Colorado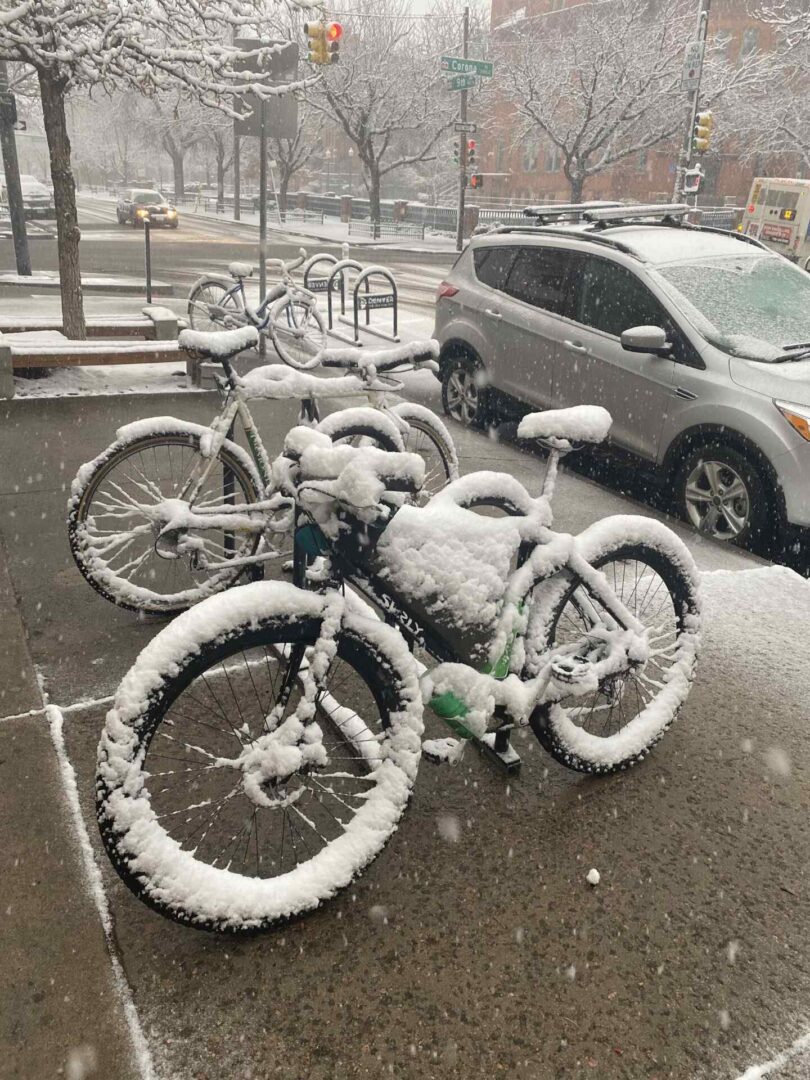 Do you commute to work by bicycle, but feel intimidated in the winter months? Here are a few simple ways to make life easier while commuting via bicycle in the winter months in Colorado.
Lower your tire's air pressure. Typically, you want to lower the pressure in your tires by about drop the air pressure in your tires by about 10-20% for winter. While the roads are icy, especially. The sidewall of your bicycle's tires has a pressure range (i.e. recommended 90-120 PSI) that you want to stay within for warm weather, but keeping your tires inflated 10-20% below that average pressure will give them more surface area to grip the road with when there's ice or snow on the roads so that you feel more confident riding in inclement weather or the day after a storm. For example for road bikes, if you usually inflate your tire to 90 PSI, lower it to 72-80 PSI for winter. Whereas mountain bike tires only need about 20-30 PSI. The balance is deflating them just enough so that you feel stable and comfortable cycling but not enough that you get a flat which is the last thing you want while cycling in the winter.
Winter compatible tires can make a big difference in your comfort and safety. If you have the option of riding a Hybrid, Mountain, or Fat Tire Bike that is definitely preferred over a road bike due to the thicker tires. If you have a road bike, that's fine, so long as you have deeper tread and are grippy, for example Schwalbe Marathon or Panaracer Gravel Kings are good options for the winter commute. Studded tires are another option, but tend to be less safe on dry roads and with the way weather is unpredictable in Colorado, a good pair of quality tires at a lower PSI is the way to go.
Good gloves or bar mitts. You can find high quality gloves that are still flexible for your hands to safely grip your handlebars, brakes and shift with ease while keeping you warm on your commute. If you're still experiencing the cold through your gloves, try a pair of Bar Mitts from your local bike shop. They attach to the handlebars and stay there for an added layer of protection that you can put your hands in and out of for added warmth.
A warm hat or earmuffs under your helmet.*A thin wool hat or microfiber hat will make a world of difference in keeping the heat from escaping out from under your helmet. Staying warm with *thin layers such as puffy jackets and windbreakers can help you feel more comfortable and still ride in the winter, too. Be sure to have multiple layers so that you can strip down if it's sunnier in the afternoon than it was on your way into work, too.
Neck gaiters/balaclava-style masks can make your commute even more comfortable as they can be pulled up to protect your face from wind and snow, and sunshine if the weather shifts. Polyester or wool fabrics are best as they are breathable and double as both cooling and warming, in case the sun comes out.
Warm shoes or booties on top of your shoes. Check your local bike shop's selection of shoe covers that zip or velcro on top of your existing shoes or winter boots. Another option is to wear insulated hiking boots or tennis shoes that have good rubber soles with tread to grip the pedals in any weather and protect your feet from the cold.
Lowering your seat height lowers your center of gravity and makes you more stable and can help with feeling more comfortable on icy terrain in case you need to stop abruptly or put your feet on the ground to stop from slipping. Lowering your seat post even an inch or two will make you feel safer and more confident, even if you do end up needing to pedal a few extra rotations to get to work or back home. The safer you can feel, the less slipping and the more enjoyable the ride will be.
Pannier bags and rear rack or a front rack with net or basket for storing your lunch, laptop bag, and/or backpack can make a big difference in the winter or summer for your daily commute. Getting the items you need to carry to work and back off your back makes you more comfortable and free to ride in a better riding position without weight on your shoulders. Especially when the weather is crummy, having your arms free from backpack straps is a great way to stay safe. Be sure to purchase pannier bags such as Ortlieb or Axion with weather protective coating or waterproof materials so that the items you need to transport aren't ruined after your commute. If you use a bike rack and cargo net or straps, be sure to purchase a bag that is weather protected or waterproof too. A great local custom bike bag company is called Rocky Mountain Toast.
*Fenders *are also a great way to stay more dry and less muddy when riding in snow or rain. There are a variety of options ranging from quick clip-on, plastic fenders that attach to the front fork and rear seat stay or seat post, to bolt-on metal fenders that are more durable and costly but can be removed and re-used every year with the help of a professional. Either way, fenders above the front and rear tires will help keep you from having to keep a spare pair of pants at the office after your commute in by bike.